Virtual Manufacturing Suite package embeds: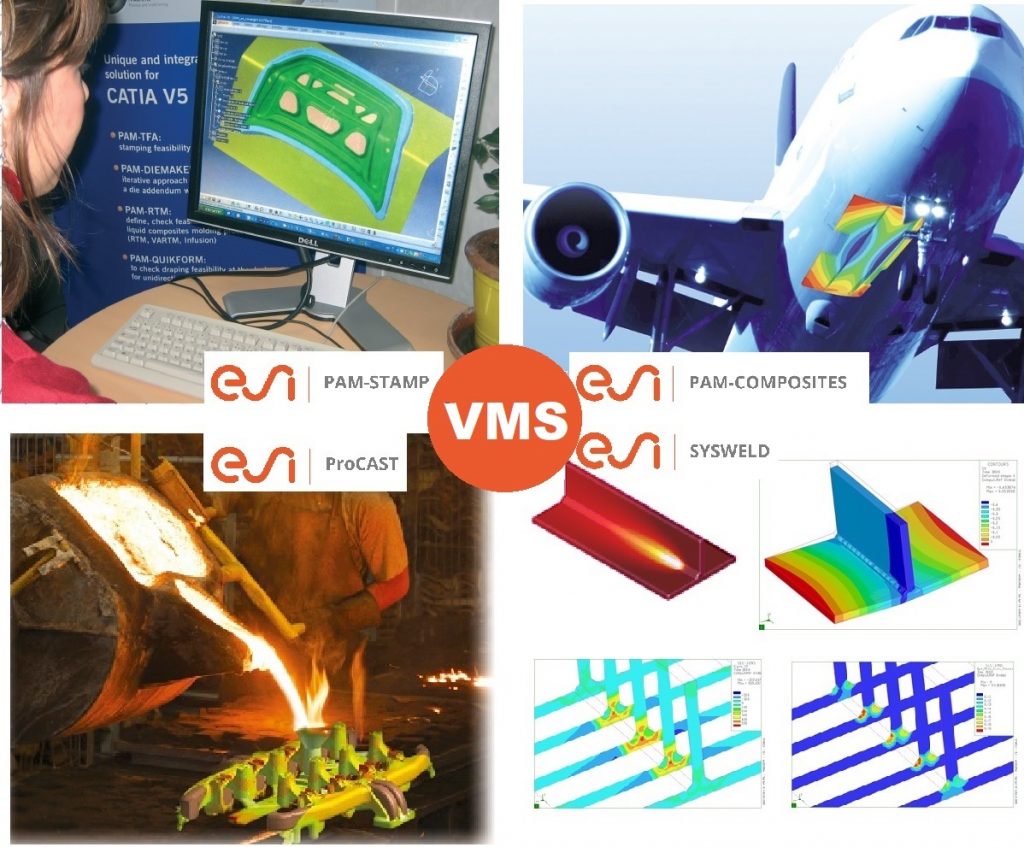 The core of the Virtual Manufacturing Suite is based on market-tested software packages
In the World of disruptive design changes, Virtual Manufacturing applications span over an ever-increasing range of materials and processes. The portfolio of Virtual Manufacturing in this World encompasses many production methods for validating the manufacturing methods and tooling designs that are planned to produce the parts that make up an approved or released product.
Virtual Manufacturing Suite (VMS) from ESI helps you to:
Validate materials, processes, product designs for best combination of materials, performance, cost
Secure feasibility and meet "performance", "cost" and "allowable" targets at preliminary design phase
Engineer manufacturing defects and their effects on Durability & Safety
Influence and affect product design decisions as part of simultaneous engineering
Validate tooling designs and methods that deliver the approved products. They help you to detail the design of manufacturing process for a designed part including process parameters, tooling, sequencing and inspection
Identify adjustments that can be made within the constraints of the already approved or constructed tools to assure a launch without triggering new engineering
Deliver the bill of process with local factory guidelines to meet manufacturing KPIs
Ensure the dimensional quality of BIW assemblies within allocated cost and time
The VMS from ESI puts all this capability together – It is a suite of solutions that help you to virtually develop and validate key manufacturing and joining processes to fabricate parts, sub-assemblies and assemblies for complex and predominantly light weight engineered objects like a body-in-white, an aero engine or airframe structures, to name a few prominent ones.
The Virtual Manufacturing Suite (VMS) from ESI offers solutions to the following problem areas: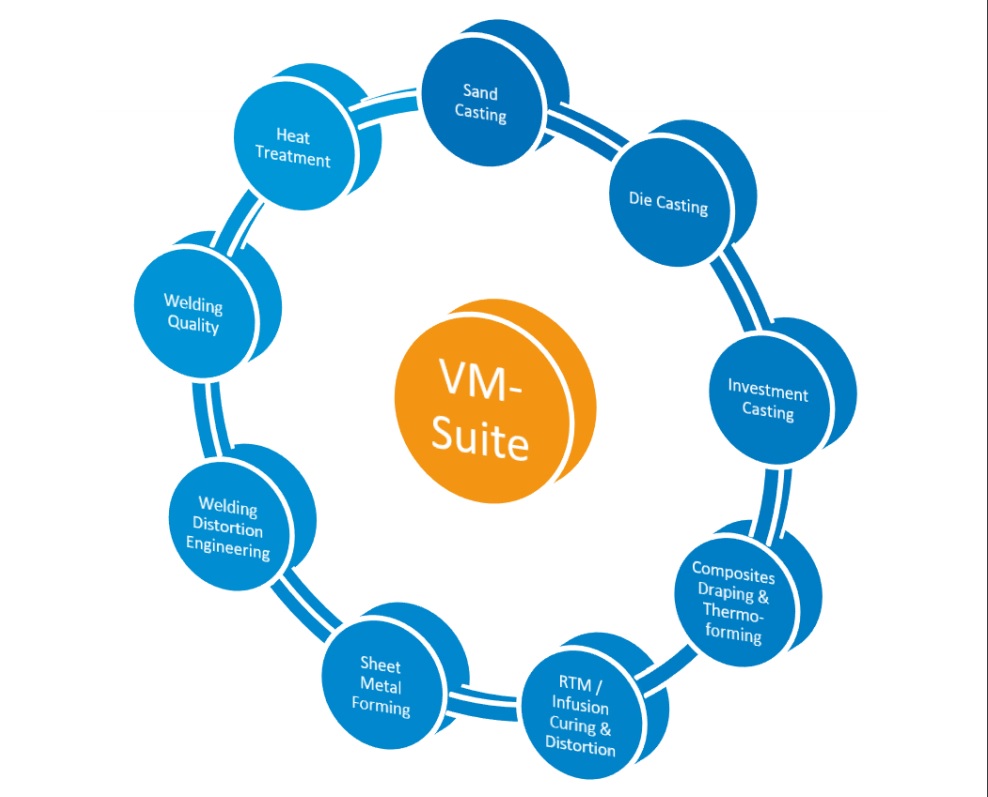 Modularity of the Virtual Manufacturing Suite
Typical applications – across Industries - covered by the VMS are:
Sheet Metal Forming of large flexible panels, structural parts, & doors and closures, across Industries, cold, warm & hot formed
Composites - Light weighting beyond metals covering many different applications in Automotive & Aerospace
Light Alloys premium quality castings for body work, combustion engines, conventional power trains and electric drive systems
High temperature / special metal premium quality castings in Aerospace
Cast Iron & Steel premium quality castings in Energy, Heavy Industry & Machinery
Weld Quality & Assembly Distortion Engineering to fabricate sub-assemblies and assemblies, across Industries
Process families covered by the VMS from ESI are:
Sand Casting
Die Casting
Investment Casting
Investment Casting
Looking for more information?
About ESI Group
Founded in 1973, ESI Group is a leading innovator in Virtual Prototyping solutions and a global enabler of industrial transformation. Thanks to the company's unique know-how in the physics of materials, it has developed and refined, over the last 45 years, advanced simulation capabilities. Having identified gaps in the traditional approach to Product Lifecycle Management (PLM), ESI has introduced a holistic methodology centered on industrial productivity and product performance throughout its entire lifecycle, i.e. Product Performance Lifecycle™, from engineering to manufacturing and in operation. Present in more than 20 countries, and in major industrial sectors, ESI employs 1200 high level specialists. In 2019, its turnover was 146M€. ESI is headquartered in France and is listed on compartment B of Euronext Paris. For further information, go to www.esi-group.com.